Tikka Replacement Barrel
Carbon Six Rifle Barrels offers Tikka prefit barrels to take your rifle to the next level. Carbon Six offers Tikka prefit replacement barrels for Tikka T3, Tikka T3x, Tikka CTR, Sako A7, Sako A5, and Sako 85.
Carbon Six Rifle Barrels offer a whole host of benefits over traditional metal barrels.  First, it is important to understand what a carbon fiber rifle barrel is and is not.  At its core, a Carbon Six barrel is a stainless steel, precision barrel.  The barrel is not made of only carbon fiber but instead utilizes a proprietary contoured McGowen blank that is profiled to our exacting specifications.  We then use a series of manufacturing processes to apply a carbon fiber outer wrapping.  There is a lot of fluff and misconceptions out in the marketplace about what the true benefits are.  We avoid making outlandish claims, but what we do make is highly accurate, precision barrels with a 1/2 MOA Guarantee that we stand behind.
All of the barrels made at Carbon Six are made-to-order and hand-crafted in the USA.  We offer your choice of length, twist rate, chambering, threading, and more. You get the barrel you want delivered to you in a reasonably fast time.  Got questions? We would love to talk with you. A real human giving real customer service.  Give us a call at 844-883-9493.
AVAILABLE CONTOURS
Carbon Six offers four standard contours.  Our contours are all target style, straight contours.  Three measurements dictate the contour of your barrel.
1- Your barrel length.
2- Your shank diameter.  This is dictated by your receiver.
3- Your desired muzzle diameter.
The beauty of a CarbonSix barrel is the amazing weight reduction.  Many customers choose to take full advantage of this by selecting the light option.  If you want a medium or heavy, you still get the benefit of significant weight reduction.  As a percent of weight reduction, you gain as the contour goes up.  A CarbonSix bull contour vs a full stainless bull contour will yield the largest reduction.
FEATHERWEIGHT 
Our lightest option.  This featherweight barrel has a maximum length of 24″.  The outside diameter is a fast & nimble .750″ at the muzzle.
SENDERO 
One of the most popular contours on the market.  This barrel will feature an outside diameter (OD) at the muzzle of only .830″
MAGNUM
Need something heavier?  This barrel will feature an outside diameter (OD) at the muzzle of .900″
BULL
Our most stout option is the heavy contour. This barrel will feature an outside diameter (OD) at the muzzle of 1″.  This is also very similar to a McGowen #8 contour.
This is one of our most common questions.  How much weight will a Carbon Six barrel shave off of my rifle build?  That isn't always an easy answer.  The best answer is "it depends."  There's not a great rule of thumb to apply mostly due to the custom nature of our barrel options.  What we can say with great certainty is that a larger (fatter) contour will yield the largest weight savings.  The difference in weight between a carbon fiber barrel that has a 1.2″ muzzle diameter and a steel barrel of the same diameter will be huge.  We've seen barrels that have approached the 60% savings mark.  On the other end of the spectrum, a featherweight barrel may yield only a several ounce savings. 
Length, muzzle diameter, shank diameter, muzzle length, threading and caliber all factor into your finished weight. When in doubt, give us a call or shoot us an email.  We pride ourselves in old-fashioned customer service.  Tell us what you are mulling over, and we can likely give you a good idea of weight expectation and make recommendations on the ideal barrel for your goals. 
HOW ACCURATE ARE CARBON SIX BARRELS?
CarbonSix barrels are incredibly accurate.  So accurate in fact, we stand behind them with a 1/2 MOA Guarantee!  How many barrel companies will do that?  The only caveat is you need to do proper load development.  If you are familiar with the world of long range accuracy, you know the importance of developing a load that your rifle likes to "eat."  No two barrels are exactly the same, and no two rifles are exactly the same.  We also advise you to take advantage of our installation services to ensure optimal results.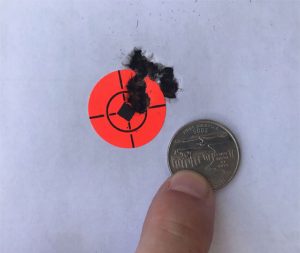 Custom – Made To Order
Guaranteed 1/2 MOA Accuracy
Threading Options: 
Savage Small | Savage Large |  Remage |  Remington 700 | Ruger Precision | Browning A Bolt | Marlin | Howa 1500 |  Weatherby Vanguard | Weatherby Mark V | TIKKA
Friendly Customer Service 
Extremely Durable – Carbon Fiber is Harder Than Steel
Custom Muzzle Brakes
CUSTOMER SERVICE
844-883-9493
Real Humans Who Answer Questions
M-F | 8am – 5p, CST
Email
Info@CarbonSixLLC.com
We are always expanding our reamer options, and will gladly do chambering for cartridges not listed here as long as reamers are available for rent.  You can also provide your own reamer.  Want something not listed below? Give us a call!
224
223 AI | 223 Wylde | 22-250 | 22-250 AI | 224 Valkyrie | 22 Creedmoor
6mm/243
243 | 243 AI | 6mm Dasher | 6mm BRX | 6mm Creedmoor | 6×47 | 6mm-284
6.5/264
6.5 PRC | 6.5×284 Norma | 6.5×47 | 260 Rem | 6.5 Creedmoor | 6.5 Grendel | 26 Nosler
7mm/284
7mm Rem Mag | 280 Rem | 280 Rem AI | 28 Nosler | 7-08 Rem | 284 Winchester | 7mm STW | 7mm-338 Lapua
30 Cal
308 | 30-06 | 300 Win Mag | 300 WSM | 300 AAC | 30-284 | 300 PRC | 300 RUM
338 Cal
338 Lapua Mag | 338-06 | 338-06 AI | 338 Edge | 338-284
List Updated 07/15/2020