Threading Options
Carbon Six offers two main styles of muzzle threadings as well as custom threading options.  5/8″ x 24 TPI   -&-   1/2″ x 28 TPI
 During your barrel order, you just need to select which option you would like from the pull down menu.  Either option is only $60. Have an unusual threading?  We can do that as well.  Just select custom threading for only $80 and we're glad to thread your muzzle any way you'd like.
We highly recommend you add a thread protector to any threaded muzzle.  Choose either a basic knurled version ($20), which is pictured below or a smooth blended protector ($70) that is made of the same high quality stainless steel as the barrel core, but machined to a seamless finish.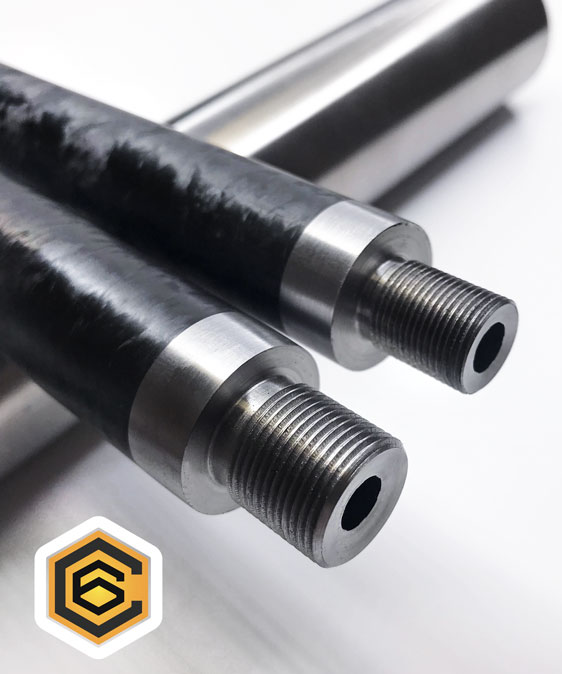 Brake Options
Carbon Six offers two styles of muzzle brakes.  Simply pick your style while ordering your barrel online.
 The first option, is our own custom muzzle brake.  The CarbonSix brake allows for a near seamless  installation.  We pride ourselves in the hand craftsmanship and attention to detail we put into every single Carbon Six barrel.  Check out the picture gallery for a few examples.  This brake can be installed with your choice of 1/2″ x 28 or 5/8″ x 24 threads to accommodate your preference or existing muzzle accessories.
The second option is the beautiful "Monarch" brake made by Straight Jacket Armory.   This self timing muzzle brake is designed to reduce recoil and look great.  Available only with 5/8″ x 24 threading.  The monarch brake measures .950″ OD.